Hi !!! Everyone
Welcome to my POLITICS page. I would like to convey that these are my personal views and not my intention to hurt anybody. If i have unintentionally caused any pain to anyone, i am sorry.

What is POLITICS and why i am so interested? For me, POLITICS is to "To do something good for the people, help transform lives, show the right path to all and make my country - INDIA proud". India has got everything and we do not need to depend on any other country for anything. India has got diverse culture, different languages/religions, knowledge wealth, young population who are raring to go and deep rooted family values. We just need to go in the right path and my aim is to "Lead this Change" and bring about the much needed Transformation.

I am trying very hard and my path is full of thorns but confident that i will be able to bring the change in our lives by Leading from the front.
Youngsters in Politics
We have all seen YOUTH POWER in the last Lok Sabha Elections. And actually youth with strong political background got elected and not normal junta/makkal. Aren't India's youth interested in Politics? Why are we backing out and not facing the challenges?

I remember someone mentioning to me about Kannadasan's views on politics. He was asked to choose between a good and a bad guy for elections. Kannadasan chose the bad one. And reason for that is "If you throw a stone into dirty water, you invariably get splashed by the dirty water and you also then loose your good character". It's then better to elect the bad one !!!!!

My views are slightly different to Kannadasan's....

"Even if you are splashed with dirty water, we need to come out clean. And today's Youth have the POWER to initiate the CHANGE."

More to Follow...Keep watching this space.
My Inspiration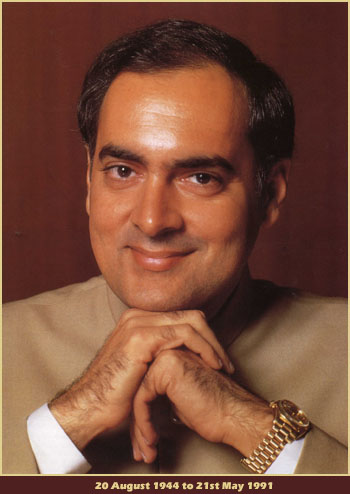 I still remember why i was so interested in politics. This was way back in 1984 when Indira Gandhi was assasinated. Rajiv stood like a rock and he was pushed into active politics. Rajiv Gandhiji took the reins of the country and won with a massive mandate. He brought in the changes to technology, Panchayati Raj and lot of other benefits to the country. He was a poster boy and had captured my imagination. I could see in him my role model and grew up wanting to change the future of India.
I was devastated when he was killed and i was stuck in Jolarpettai Junction (3-4 hrs from chennai) with my Uncle as i was returning by train from Alappuzha(Kerala) to chennai. I literally wept that day but took a decision that i will transform people's lives, live Rajivji's dreams and make our country proud.
I always pray to SAIBABA to give me the strength for me to achieve my DREAMS.
More to Follow...Keep watching this space.
I Keep Learning, DO YOU?
I would like to share some inspirational quotes which has changed my LIFE... This list will keep on growing...

1) Keep your learning options open till your end and don't hesitate to learn from anyone.

2) When life gives you a hundred reasons to cry, show life that you have a thousand reasons to smile.

3) Think courage!!!Forget your weaknesses.

4) Need to know who your true friend is and who your accomplice is.

5) It hurts to love someone and not be loved in return. But what is more painful is to love someone and never find the courage to let that person know how you feel.

6) A sad thing in life is when you meet someone who means a lot to you, only to find out in the end that it was never meant to be and you just have to let go.

7) It takes only a minute to get a crush on someone, an hour to like someone, and a day to love someone-but it takes a lifetime to forget someone.

8) Don't go for looks, they can deceive. Don't go for wealth, even that fades away. Go for someone who makes you smile because it takes only a smile to make a dark day seem bright.

9) Dream what you want to dream, go where you want to go, be what you want to be. Because you have only one life and one chance to do all the things you want to do.

10) Always put yourself in the other's shoes. If you feel that it hurts you, it probably hurts the person too.

11) The happiest of people don't necessarily have the best of everything they just make the most of everything that comes along their way.

12) "When one door closes, another opens; but we often look so long and so regretfully upon the closed door that we do not see the one that has opened for us."

13) Learn from yesterday, live for today, hope for tomorrow.

14) And in the end, it's not the years in your life that count. It's the life in your years.

15) If u r born poor, its not your mistake BUT if u die poor, its your mistake.

More to Follow...Keep watching this space.